E-books
We currently have a few places you can find e-books.  Tumblebooks is sponsored through the Library of Virginia.  The Mackin and ABDO e-books require a login and password.  You can obtain that information from a librarian or an English teacher.  The login information is the same for both sites.
Using The BryteWave App to Access Destiny E-Books
One of the great new things that our library now offers are over 800 e-books via FollettShelf.
This is in addition to the hundreds of others we have through MackinVia and Tumblebooks.
Curious as to how to read them on your device?  Here's the scoop:
1) Download and install "BryteWave K-12 Edition" app from the App store, Google Play, or the Amazon App store
2) Launch the mobile app.
3) Enter your User Name and Password. This is the same user name and password that you use to sign onto a school computer.
4) Enter the Follett Shelf URL, which is:    wbb42924.follettshelf.com
5) If you are on a private/safe/secure device and want to skip steps C and D next time you access the mobile app, put a check-mark in the "Stay logged in" box.
You should now be all logged in to download books to your device.
You can now "check-out" titles to your account.  HOWEVER, in order to read the books off-line (or at school), you must also download the book to your device while still connected to the internet.
The book will return automatically in 14 days or you can return the book early.  If you do finish the book early, please try to "return" it so that others may read it.
Click here to view a user-friendly guide to both the online and app versions of FollettShelf.
If you have any further questions about reading the e-books online or with a device, stop by the library to speak to one of the librarians!
Accelerated Reader Program
We are very fortunate to have Accelerated Reader Enterprise in Suffolk Public Schools, which gives us access to every single one of the AR quizzes that are available.  As this list is now over 10,000 titles, please use the link below to see if the book has a quiz.  If it exists, the students should have access to it in school.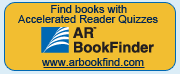 For information about more reading programs, we suggest: